Welcome to The Last Photo Shop you will ever need!
Are The Photographs You Create The visual History of Your Family, The Record Of Who You Are And The Places And Things That Are Important To You And Yours?
Have You Ever Wished That You Could Find Someone Who Shared Your Passion For Photography? Just One Person (or maybe a store with a staff that cared- you probably think that would be to much to hope for- I know it seems hard to find in this day and age) You Could Ask Questions, And Could Help You Solve Problems? Maybe Even Someplace that Could Help You With Printing Your Photos And Even Had The Creative Ability To Help You Get The Most Out Of Your Photography? Is there someplace you could go to get help making your photographic vision a reality? Well you have arrived!

If you were thinking yes to anything in the above few sentences, this is the place for you- Read On! I am delighted that you are still reading, that means we have a lot of things in common, I'll bet. Don't worry you and I are not alone either. There are lots of people who feel the same as we do, that photography matters, and that our families, and our histories will be lost without our photographs to tell the story of our lives. I'll bet we are both also sticklers for natural skin tones and bright colors in our photos. Maybe we even get frustrated sometimes when we know what we want, and we go into a shop for help, and they don't even try to understand what we are trying to do, and want us just to pay for what they offer. Has that ever happened to you?
The Photo Finishers offers So Many Specialized processes, that most people never even heard of many of the products and photographic services we provide. but We bet we can solve your photographic challenges no matter what they are. -Heck if it's not something we offer, we usually invent something new that will solve your problems-
At The Photo Finishers, for the last 15 years here in Hot Springs, Arkansas, we have made it our mission to help photographers (from very amateur- just starting out with their first camera-to high end professional, young or old from all over the world), we take the time to understand your needs and wants. In everything we do, we take a hands on custom creative approach, so that all your photographs are the best that they can be. We guarantee it, or we will remake them for free. Photographs printed on our Kodak Royal Paper are GUARANTEED no matter what.
That same commitment to service and quality that seems to be a lost art to everyone but you and I, is our bread and butter. Whether we are transferring your video tapes to DVD, restoring your damaged photographs, making copies of 100 year old oval portraits, or just printing the files from your digital camera, we care that it comes out like you want it to be. That's really all that matters, that the end result is something that thrills you. That's what we do here. We preserve history, just like you.
Please visit all the pages of our site (click on any of the buttons on the left side that describe things you are interested in), and explore all the services we have to offer. I also invite you to check out our special "seasonal/holiday" values coupons and our "deal of the day" section. Take the time to sign up for our free newsletter , so we can keep in touch, and please tell us what you think. It really is important to us.
We aren't the biggest store you will ever find, but I will put us up there with any of the best you have ever seen. Try us out (don't forget about those limited time offers and specials that will expire soon) and let us know what you think. Your opinion is the one that matters most of all (there might just be a prize in it there somewhere- hint-hint), but I bet we see things pretty much eye to eye. We'll talk to you soon.

Discover what treasures await on the film and disposable cameras that have been lying around your house for ages!
The Photo Finishers offers Special Limited Time Amnesty (turn yourself in) for your old film that is clogging up your drawers and Old Shoe Boxes!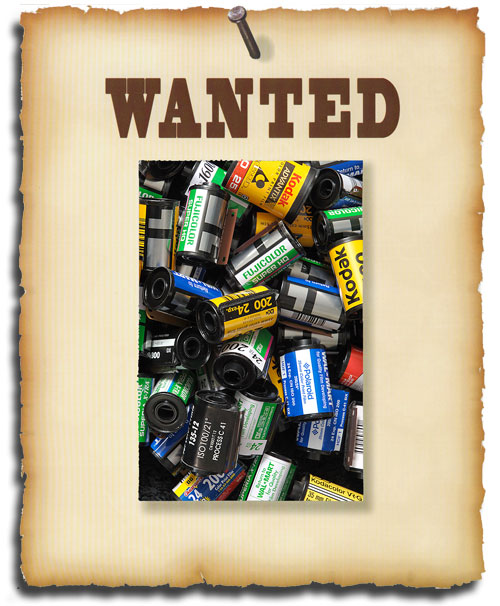 Admit it, you probably have at least a few rolls of film that you just canít seem to remember to have processed, and at least one that you donít even know what is on it. To celebrate their 15th year of business in Hot Springs, The Photo Finishers complete imaging center is offering amnesty to all those folks with old rolls of film sitting around in your junk drawers and shoe boxes. If you are like most of us, you would love to have those rolls processed and check this project off your ďto doĒ list.
The time has never been better to have them processed and finally reclaim your storage- and re-live the memories that are locked away in those little film canisters.

Exposed film can degrade over time if it is not processed, so it is really important to take advantage of this one time offer and get that film processed now. You can order just processing, processing and an index print, regular prints, a CD, or in any combination. With this Amnesty, the time will never be better, and your cost will never be lower.
For complete details, just call The Photo Finishers Location on Albert Pike in Hot Springs, Arkansas at 624-4029 Donít wait any longer on this, the prices will never be lower, and this Amnesty is available only for a very limited time.

The Photo Finishers has been the areas most complete Photographic and Digital Resource for 15 years. In addition to film developing, they offer professional digital printing in house for sizes from locket photos to 24X36, Full service professional video center capable of transferring film, tapes, negatives, slides or photos to custom made DVD Videos, Photographic Restoration and copy services on any size or condition original, Equipment sales and repair, Albums, frames, lenses, bags and accessories, in addition to an amazing full service studio and truly friendly and knowledgeable staff.
Stop by 1819 Albert Pike Suite F. in Hot Springs, or call 624-4029 or toll free 888-624-4029 for all your imaging needs.
copyright 2009 The Photo Finishers 1819 Albert Pike Hot Springs, Arkansas 71913